Description
Notes: Heliotrope, honey, meadow flowers, & fenugreek absolute
Sichuan pepper, nutmeg, labdanum, iris, myrrh, benzoin & styrax
Sandalwood, amber, oud, incense, Peru balsam, animalic musks
OSANG is inspired by this extraordinary annual miracle, a scent of viscous beauty, blood rising, shifting from inertia to bubbling resurrection.  A miracle of love.  A perfumed celebration of saints and superstitions, centred around a ravenous fenugreek absolute note lavished with singed pyrazines, sacrificial myrrh and mournful molten honey poured over everything like amber rain. Meadow blooms, sticky dark resins, pungent balms and ashen clouds of iris swirl like dramatic weather.
The miracle slowly unfolds from sunlit flowers through a sea of honey and glorious fenugreek, stirring our hunger into clouds of swirling darkness, golden hope and cindered skies. A perfume of darkness that slowly explodes into delirious, mysterious light, a Talisman of blood, seething with shadows and burning magic.
OSANG. A miracle of scented love. An indelible prayer for skin.
Creator: Stefania Squeglia and Naples
Naples is urs sanguinium, City of Blood, protected by patron saint San Gennaro.
Three times a year his dried blood is presented to the people, hungry for love and miracles.
If this holy treasure liquefies all will be well with Naples.
If not, the earth will shake, skies blacken…misfortune might descend.
This supernatural and holy liquefaction is a talisman of metamorphosis and protection.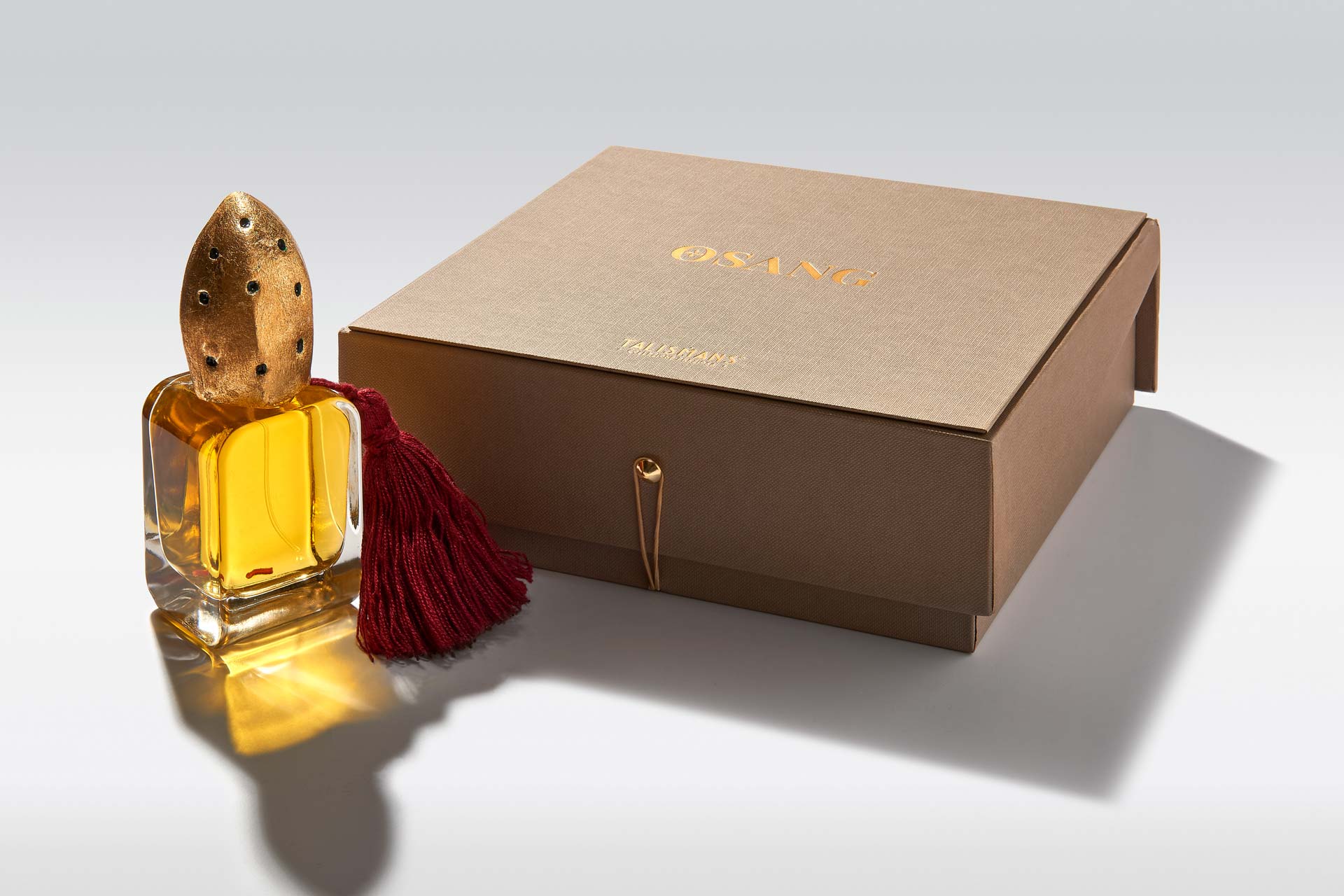 OSANG Packaging
OSANG Extrait de Parfum is presented in luxurious handmade Talismans case. Its cap is the hat of the Saint in the interpretation of our sculptor Alessandro Reggioli, while the bottle is adorned with a real sacred pending ornament piece. Each flacon contains a little handmade Horn of original red coral, the symbolic gemstone of the Naples bay.